It is good to have a hobby.  Anyone who knows me knows I am a passionate and committed volleyball player and coach for my club.
After looking around for some tools for us to take statistics on our games and I decided to build my own tool to make more sense of player performance. I have put together 2 very similar versions for different hardware.  Both files collect simple counts and then display the resulting key statistics by player, giving the coaching group a set by set look as well as an overall game view. The critical element here is being able to see at any time what is happening at any time during the game. Not having to wait for a set to end or the game to be over.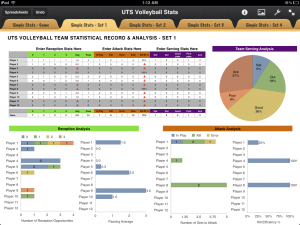 Clearly there are other things like this around which are far more professional, so I am sharing these freely for all others to use or build on as they see fit. Please tell anyone who asks that you got the base file from EAVI

The EAVI Simple Volleyball Stats Collector (Excel file) obviously needs something that will run Excel 2003 to make it go. The iPad file (pictured) runs on a iPad via Numbers ($10 to Apple via the app store). This file is a little simpler, but also only needs an iPad so more mobility. If you would like a copy of this file please get in touch with me since (my hosting supplier won't let me post it).
Have fun and let me know how it works for you.
All feedback happily received.