The Australian Bureau of Statistics released the May data for Retail Turnover in Australia yesterday (4th July).
I have already updated the Interactive Report (which I showed on the Portfolio page) with this new data but thought I would also take a look at an alternative view of this information by preparing another interactive file, while aiming for a simpler look.
The result is the Retail Turnover Dashboard.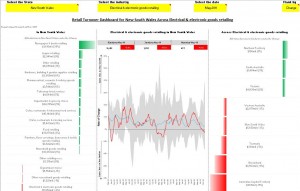 The file will be fine for those using Microsoft Excel 2007 or 2010.
If you want to chat about how you or one of your clients could be using a simple tool like this to quickly see regularly updated information and be using it to make business decisions then please contact me.